Everything DiSC® is an assessment-based learning experience designed to help
people work better together. Now you can help shape a more engaged and
collaborative culture with a professional credential:
An Everything DiSC Certified Practitioner.
What Is Everything DiSC Certification?
The Everything DiSC Certification course is an online two-week, blended learning experience designed for in-house
practitioners who want to implement and scale Everything DiSC within their organization. The course consists of: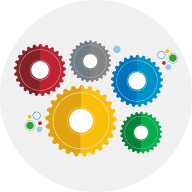 Self-Paced Learning
Complete five asynchronous learning modules that are engaging and immediately applicable in the workplace.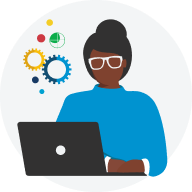 Virtual Classroom
Four virtual classroom sessions over two weeks – each week, you will participate in two 120-minute sessions where you can share and learn from the experience of other talent management professionals.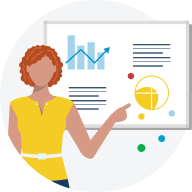 Application Projects
Present two application projects to synthesize your learnings and receive valuable feedback.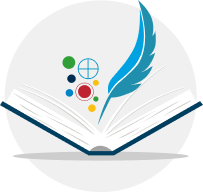 Certification Exam
Take the final Certification Exam to measure your understanding of the key Everything DiSC concepts.
Upon successful completion of the exam, participants earn the credential of
Everything DiSC Certified Practitioner, signaling proven knowledge in the
language of DiSC® and competence in shaping an engaged, collaborative, and high-performing culture.
What You'll Learn
As an Everything DiSC Certified Practitioner, you'll develop the confidence and expertise needed to deliver impactful
DiSC experiences that will help people work better together. During the course, you will:

Deepen your understanding of the DiSC® model, theory, research, and key principles.

Explore how to build custom solutions and deliver impactful DiSC experiences using the new Everything DiSC on Catalyst™ learning experience.
Familiarize yourself with the full Everything DiSC application suite.

Practice facilitation and coaching techniques while receiving feedback in a safe environment.

Gain ongoing access to Wiley's online training center, where you can access all the course content and connect with your fellow practitioners and Wiley's education specialists.
Why Get Certified with Everything DiSC?
While certification is not a requirement to bring Everything DiSC to your organization, completing a certification
course signifies a proven level of capability and expertise in each Everything DiSC solution.
The two-week course will provide you with:
Valuable Credential

Your Everything DiSC Certified Practitioner credential is backed by nearly 50 years of research-based assessment experience and 200+ years of publishing excellence. In addition, Wiley is a SHRM Recertification Provider, so you're eligible to earn 20 Personal Development Credits.

Depth of Knowledge

Go beyond the facilitation kits to deepen your foundational DiSC knowledge with our team of Education Specialists. You'll gain expertise in the DiSC model, our assessments and profile results, facilitation best practices, and more.

Organizational Impact

As a Certified Everything DiSC Practitioner, you'll be equipped to integrate the language of DiSC into your organization's culture, helping each learner build the social and emotional know-how for more effective (and enjoyable!) interactions.
Everything DiSC Defined
Everything DiSC offers highly adaptive, human-centered solutions that transform the typical, day-long event into an
ongoing learning process—that works.
Our Assessments
Each Everything DiSC solution includes a scientifically validated assessment with a 90%+ global accuracy rating. Learners respond to behavioral statements on a five-point scale to measure their preferences and tendencies based on the DiSC model—a simple, yet powerful model that describes four basic behavioral styles:

Dominance

Influence

Steadiness

Conscientiousness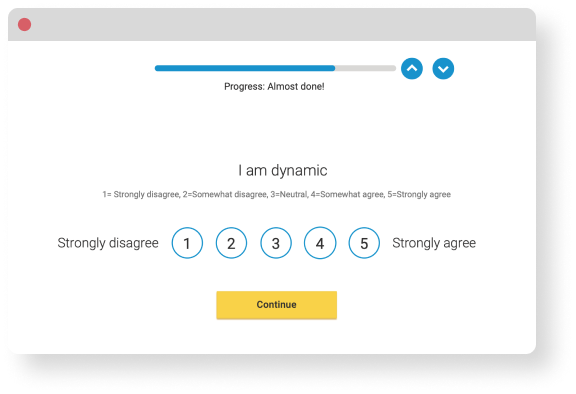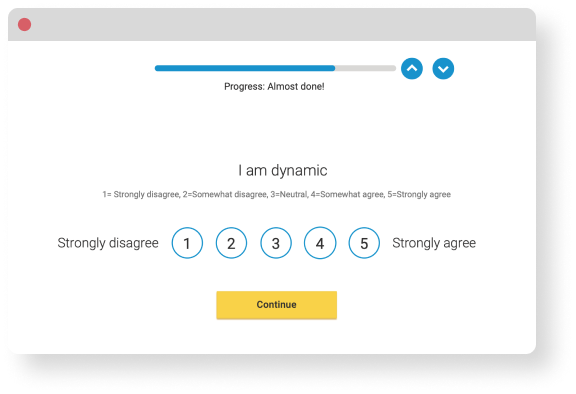 Instructor-Led Facilitation
Led by an Everything DiSC expert, each Everything DiSC facilitation experience brings the personalized insights generated by the assessment to life through rich conversation and "aha!" moments.

Learners dive deep into their assessment results through instructor-led learning modules, informative videos, and group activities—inspiring lasting behavior change.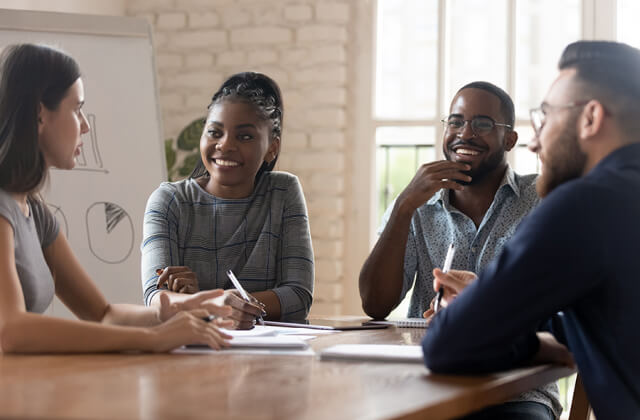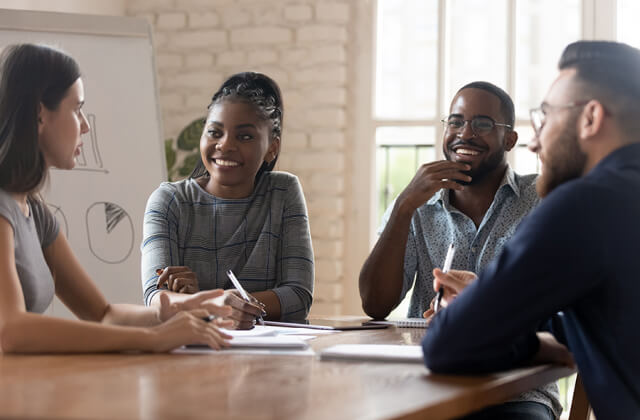 The Catalyst™ Platform
Catalyst™* is a personalized learning platform that delivers the assessment results and acts as each learner's home base throughout their DiSC journey.

Designed to support instructor-led facilitation or individual exploration, Catalyst integrates DiSC into the flow of work, ensuring takeaways are readily applied.

*Available only with Everything DiSC Workplace®, Everything DiSC Agile EQ™, and Everything DiSC Management.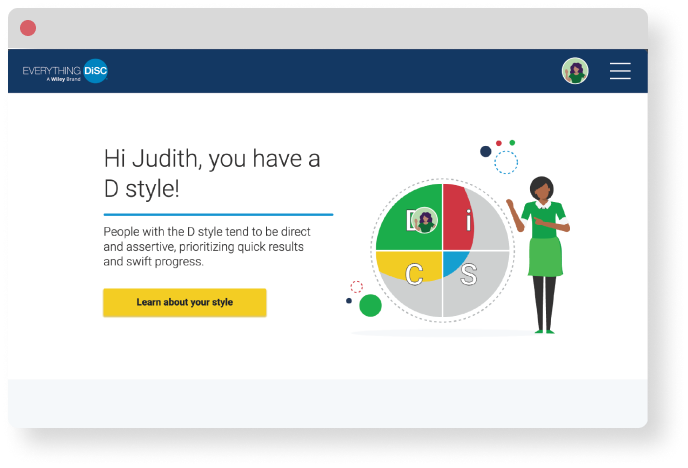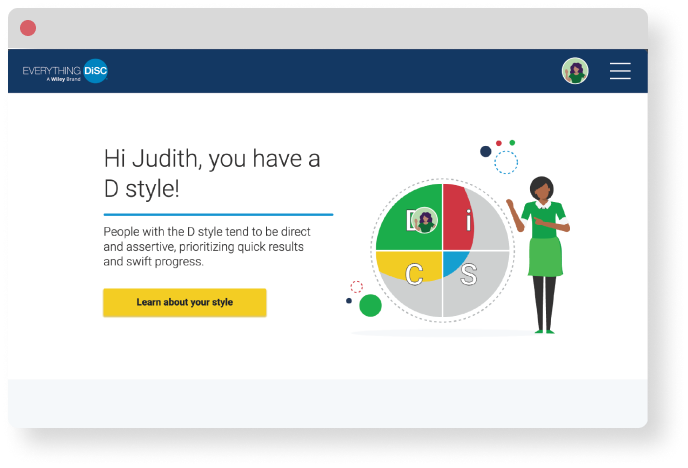 Praise for Everything DiSC
"We've used Everything DiSC for years, and Catalyst has helped our organization develop a common language to build better relationships. Our employees use Catalyst before a call to gain insight into how to make the most of their meetings."

Annie Vallier

Training & Development Manager, Blount Fine Foods

"The Catalyst platform is brilliant. It enables personal introspection and reflection and showcases how we can improve our interactions with colleagues—amazing!"

Susan Coffey

Finance Director, Cartrefi

"Everything DiSC has been an instrumental component of our organizational development strategy. We hear references to DiSC styles in conversations, meetings, and even our Holiday Party! It's certainly been impactful for our organization."

Karen Shannon

VP, and CRHO, Ollis/Akers/Arney

"In a fast-changing organization, Catalyst is a game-changer! Employees can discover insights about others as they interact organization-wide."

Suzanne Chambers

Manager of Leadership and SSC, 7-Eleven
Upcoming Dates
PARTNERS: Everything DiSC Certification - DEC 7 (2 PM Chicago / 8 PM London)

Virtual

CLIENTS: Everything DiSC Certification - FEB 2 (2 PM Chicago / 8 PM London)

Virtual

CLIENTS: Everything DiSC Certification - FEB 5 (9 AM Chicago / 3 PM London)

Virtual

CLIENTS: Everything DiSC Certification - FEB 19 (10 AM Chicago / 4 PM London)

Virtual

CLIENTS: Everything DiSC Certification - MAR 8 (10 AM Chicago / 4 PM London)

Virtual

PARTNERS: Everything DiSC Certification - MAR 11 (9 AM Chicago / 3 PM London)

Virtual

CLIENTS: Everything DiSC Certification - APR 19 (9 AM Chicago / 3 PM London)

Virtual