Independent Coaches, Trainers, Consultants:
Be the Reason Workplace Cultures Thrive
As an Everything DiSC® Authorized Partner, you'll equip people with the human skills they need to work better together.
Talk to Us Today!
Not a coach or consultant but want to bring Everything DiSC to your organization? Learn How >
A Winning Equation
Partner with Us to Bring This Powerful Solution to Your Clients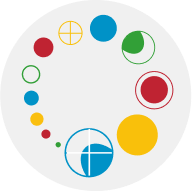 Everything DiSC®
Use our best-in-class assessment-based learning experience.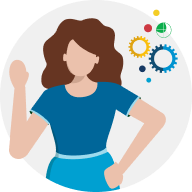 Your Expertise
Customize our solutions to fit within your unique service offering.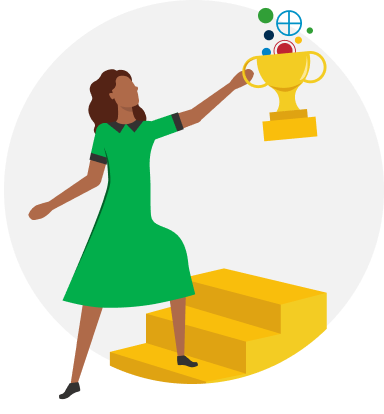 Proven Solutions
Grow your business and reputation by helping your clients achieve their organizational goals.
Everything DiSC Defined
Everything DiSC offers highly adaptive, human-centered solutions that transform the typical, day-long event into an ongoing learning process—that works.
Our Assessments
Each Everything DiSC solution includes a scientifically validated assessment with a 90%+ global accuracy rating. Learners respond to behavioral statements on a five-point scale to measure their preferences and tendencies based on the DiSC model—a simple, yet powerful model that describes four basic behavioral styles:

Dominance

Influence

Steadiness

Conscientiousness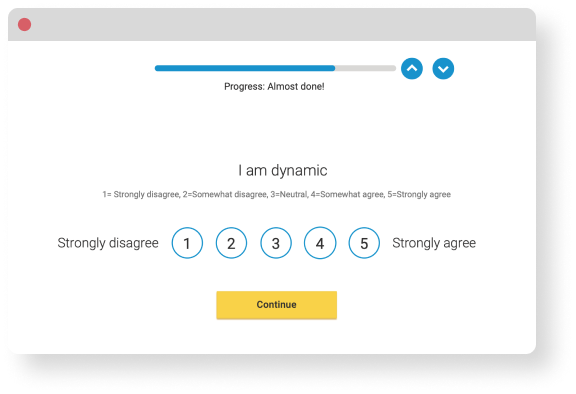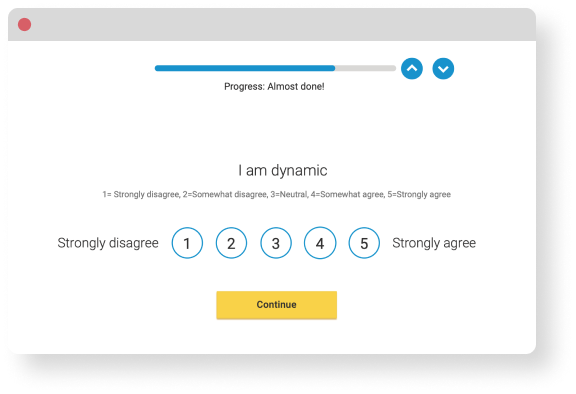 The Catalyst™ Platform
Catalyst™* is a personalized learning platform that delivers the assessment results and acts as each learner's home base throughout their DiSC journey.

Designed to support instructor-led facilitation or individual exploration, Catalyst integrates DiSC into the flow of work, ensuring takeaways are readily applied.

*Available only with Everything DiSC Workplace®, Everything DiSC Agile EQ™, and Everything DiSC Management.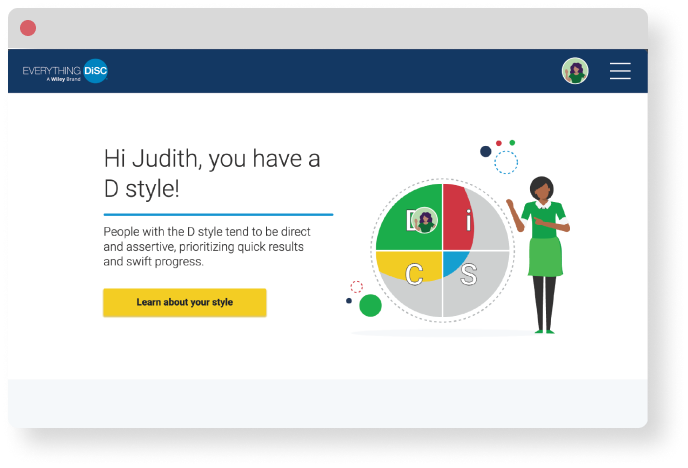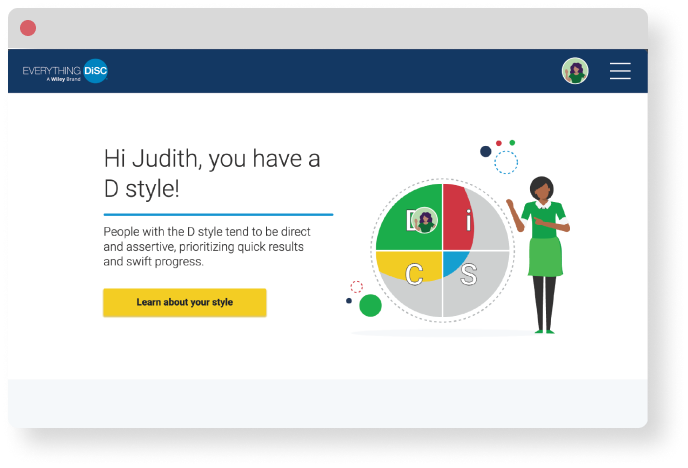 Instructor-Led Facilitation
Led by an Everything DiSC expert, each Everything DiSC facilitation experience brings the personalized insights generated by the assessment to life through rich conversation and "aha!" moments.

Learners dive deep into their assessment results through instructor-led learning modules, informative videos, and group activities—inspiring lasting behavior change.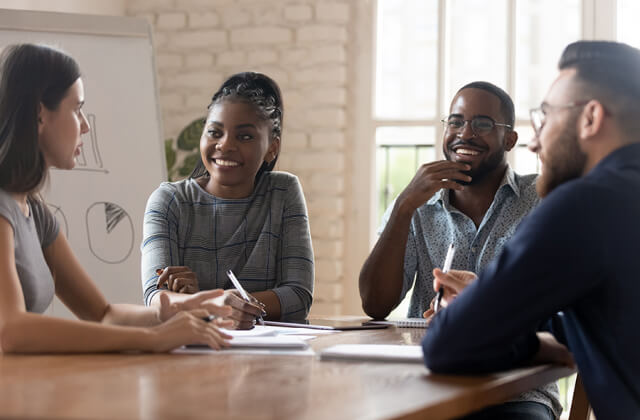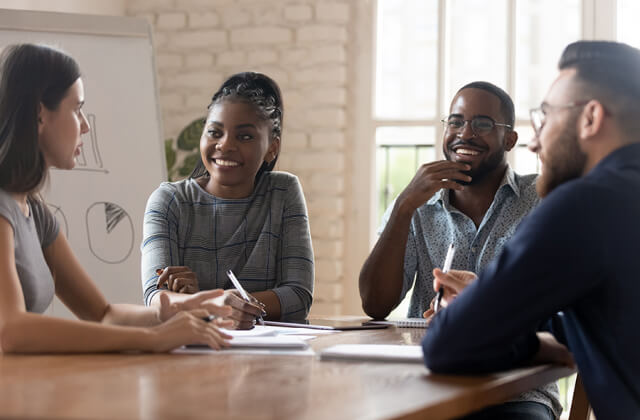 Benefits of Partnership
When you become an Authorized Partner, you receive a wealth of ready-to-use, fully customizable materials, expert training and support, membership in the Everything DiSC Partner Network, and marketing support to grow your business.
Best-in-class assessments provide personal insights and measurable metrics for impact.

Facilitation kits featuring high-quality video, group activities, and customizable PowerPoints® for in-person and virtual trainings.

Fully scripted facilitation guides that can be used out-of-the-box or customized to meet your client's goals.
New Partner onboarding and education, including a seat in our Everything DiSC Certification course.

Access to a community of your peers, independent facilitators, trainers, and coaches who share your passion for helping their clients achieve their best.

Access to Exclusive MindLab Events featuring inspiring speakers, networking, and insights to fuel your business.
Access to MindLab Connect, our exclusive Partner resources site offering you marketing resources, training tools, the latest product news, and more.

Dedicated Partner Success Team, is available via phone or email to answer your questions and support your success.

Investment in marketing and advertising to grow Everything DiSC's presence and fuel market demand.
Fuel your business and individual brand by leveraging our Partnership model to gain exclusive access to:
Wholesale pricing on assessments and facilitation materials to resell to your clients.

Your business listing on our website to help client prospects find and connect with you.
Maximize Your ROI. Immediate return on your investment.
For a one-time investment of $2,995, you receive: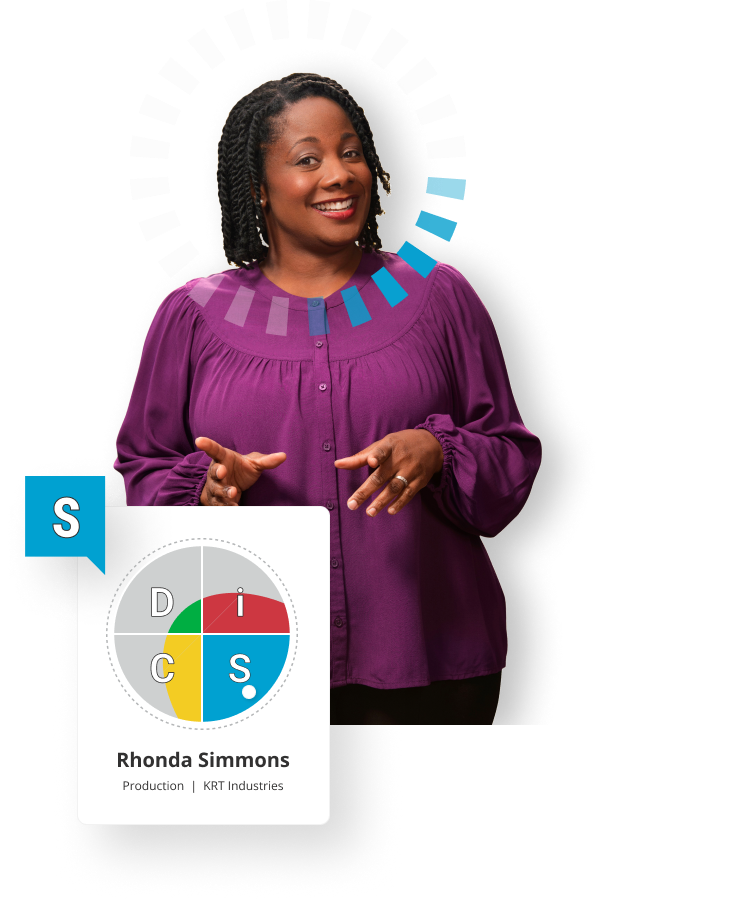 Complementary Everything DiSC assessments.

Two Everything DiSC Facilitation Kits with engaging professional videos, facilitator guides, a customizable PowerPoint®, and more!

Free download of our Catalyst facilitation.

New Partner Onboarding & Everything DiSC Certification.

Immediate access to Authorized Partner EPIC account.

Annual renewal fee with automatic renewal. Cancel any time.

Total Value in your one-time investment of $2,995
Why Choose Everything DiSC?
As the original DiSC provider with nearly 50 years of assessment-based expertise, Everything DiSC helps you equip people with the social and emotional know-how for more effective interactions. The result? A lasting impact on people performance and organizational culture.
Highly Personalized

Everything DiSC has earned a 90% accuracy rating using its scientifically validated and reliable computer-adaptive assessments. This ensures each learner receives a highly personalized experience—every time.

Applied in Real Time

Each Everything DiSC solution combines DiSC with flexible facilitation and the Catalyst platform to ensure the personalized insights learned are readily applied throughout each learner's day-to-day work life.

Guided by an Expert

Everything DiSC is available through our network of passionate coaches, trainers, and consultants, who are empowered to customize each Everything DiSC solution to meet the unique needs of any learner or organization.

Proven Satisfaction

Everything DiSC has impacted over 10 million learners in over 150,000+ organizations and is available in 22 languages, earning a 97% satisfaction rating from learners around the world.
"When we looked at Wiley and the 35+ years of research-backed assessments, the breadth and depth of the tools, and the training both before and during our induction into the Partnership…That combination and the eco-system of all those things are really what made the decision very easy for us to make."
Sanel Kostic
Everything DiSC Authorized Partner since 2018
"I have used Everything DiSC assessments since 2020, and my clients say that DiSC improves their ability to work with others, and the overall accuracy of the report is spot on."
Gary Blissett
Everything DiSC Authorized Partner since 2016
Talk to Us Today!
Fill out the form below to receive a personalized call from our sales team.