Widening Skills Gaps: Reflections on a Growing Trend
May 25, 2023 | 5 min read
In the years since the start of the pandemic and in the wake of The Great Resignation, organizations risk facing unexpected skills gaps within their workforce. A variety of factors can impact the size and scope of an organization's skills gaps, but one thing is certain: it must be addressed in order to stay competitive and attract and retain top talent.

Wiley Workplace Intelligence sought to gain insight into what is causing these widening skills gaps and its impact on organizations, as well as understand what can be done to minimize gaps and position your business, and your people, for long-term success.

We surveyed 3,000 people, from executives to individual contributors, to understand how they are assessing the gaps in their organization, as well as their greatest areas of need.

Assessing the Gaps

The impact of any skills gaps can be felt in a variety of ways. When there are key areas of specialized expertise that are missing, hard skills like systems experience, or soft skills like leadership development, these gaps can negatively impact business outcomes. Whether it is a less engaged workforce or lost productivity, the detrimental effects of skills gaps can add up quickly. As a result of the pandemic, many organizations were forced to change or adapt their business models, many moving quickly towards digitalization, which also created or increased these gaps.

The Great Resignation, in which many companies lost large populations of skilled employees, forced organizations to hire on a large scale. This often meant changing the requirements for a position, or moving people into new departments where their skills and experience may not be as close of a fit as needed to successfully do the job. These gaps can damage your organization if left unaddressed and can be hard to identify.

While many organizations have recognized that they may have skills gaps, we found that the majority have not conducted a formal analysis to figure out where they are and how to move forward filling them.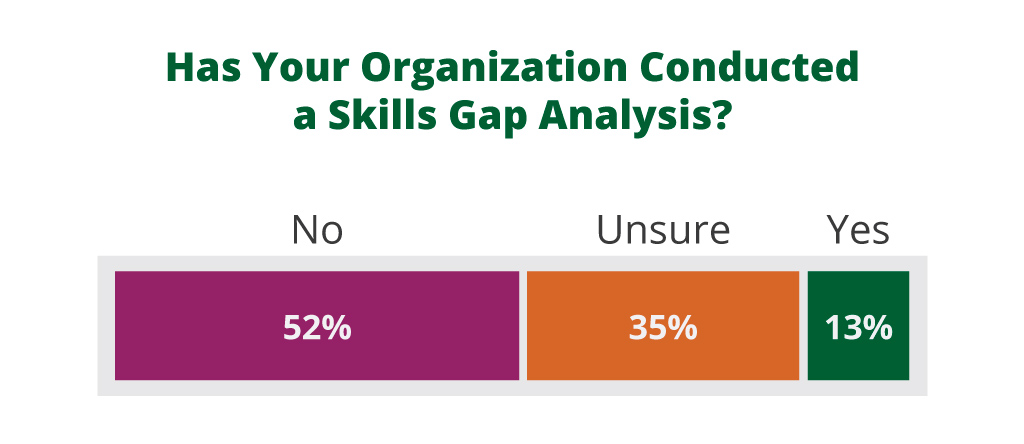 Even more interesting is the variety of ways in which people identify the fact that there is a gap in their organization – largely relying on anecdotal evidence, with the largest percent (28%), reporting they are identifying the gap by peer and manager feedback.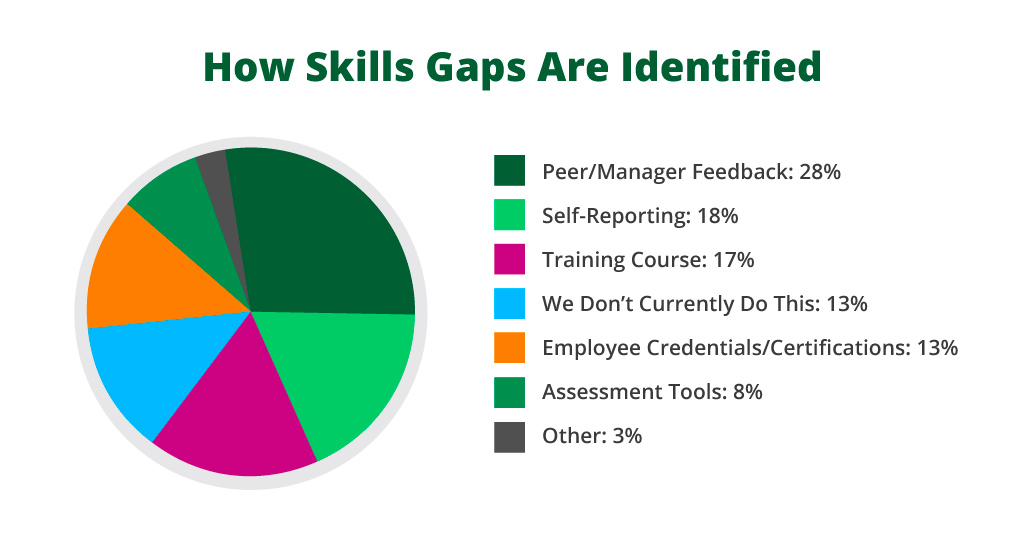 When Critical Skills Are Missing

Once you have identified that you have skills gaps, it's important to create a timeline and strategy to fill these gaps.

Wiley recently released an eBook, Closing the Skills Gap: Employer Perspectives on Educating the Post-Pandemic Workforce. It highlighted the importance of soft skills, including leadership development, when looking to close the skills gap in your organization. Upskilling and reskilling your people, while looking beyond traditional qualifications like education or previous titles, is an effective way to start leveraging the talent that already exists in your organization by equipping them with the tools necessary to help them succeed.

Same goes for hiring new talent. By hiring people whose backgrounds are outside the standard role description, you could widen the talent pool and increase diversity, innovation, and agility. Encouraging people to make lateral moves to areas they have hands-on experience in, versus more traditional backgrounds like degrees, is another way to fill the need for diverse qualifications.

Our research showed that technical skills were the most critical missing skills, with 42% of respondents reporting gaps in that area, followed by soft skills at 32%.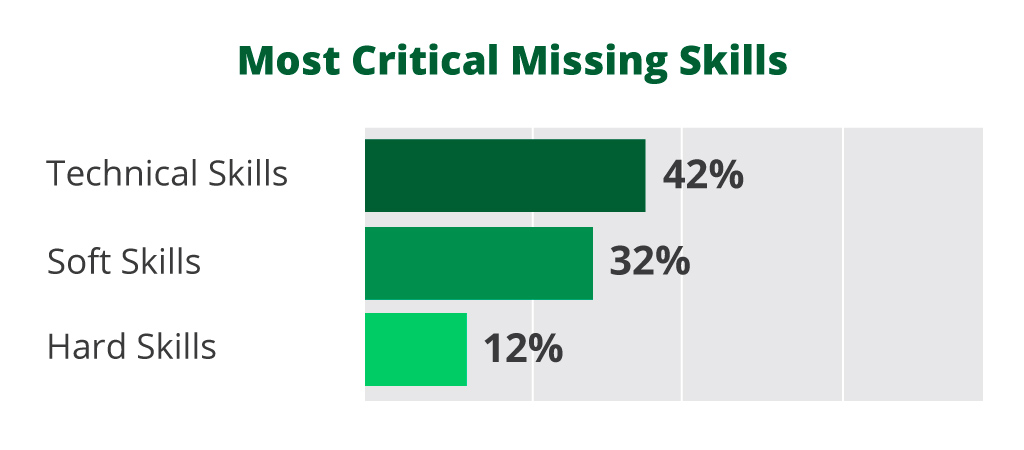 Interestingly, executives and directors were more likely to say that soft skills were most critical, while managers and supervisors were more likely to say that technical skills were most critical. This data shows that executives are seeing systemic gaps in skills like leadership, relationship building, and teamwork whereas managers want people with the hard skills needed to complete tasks and meet objectives, such as systems and technology training.

Broken down by industry, our respondents reported gaps in both soft and technical skills, highlighting the importance of conducting your own assessment to see what is needed most for your unique business.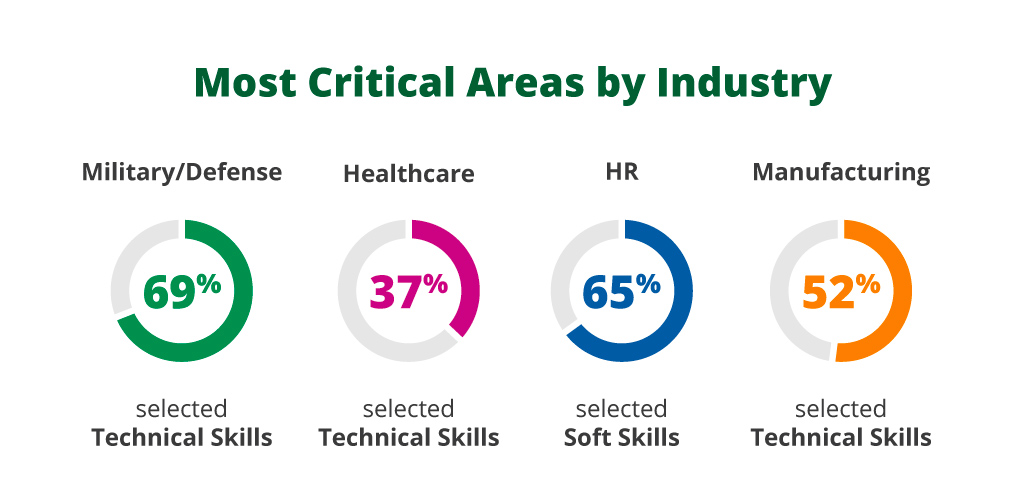 The Right Training to Fill the Gaps

Once you have assessed the critical areas in your organization, there are clear steps you can take to minimize the gaps. For example, facilitated learning experiences that improve teamwork, cohesion, and empathy can address the soft skills gaps on a large scale and are easily customizable to the needs of your organization.

Similarly, engaging technical trainings in commonly used systems (Microsoft Suite, for example) can provide a refresher for people who may not have had this kind of training in recent years. Investing in your organization in this way can make a significant difference in your workforce's ability to stretch beyond their typical skillset while growing in their soft skills, elevating your entire organization.

One of the smarter investments you can make is the development of interpersonal skills. When respondents were asked what skills they thought were the most important in their particular organization, interpersonal skills emerged as the winner with 36% reporting that was the most important skill.

This shows that while there is definitely a need for improved hard skills (as discussed above), investing in interpersonal skills training is a great way to fill some of the gaps on a large scale.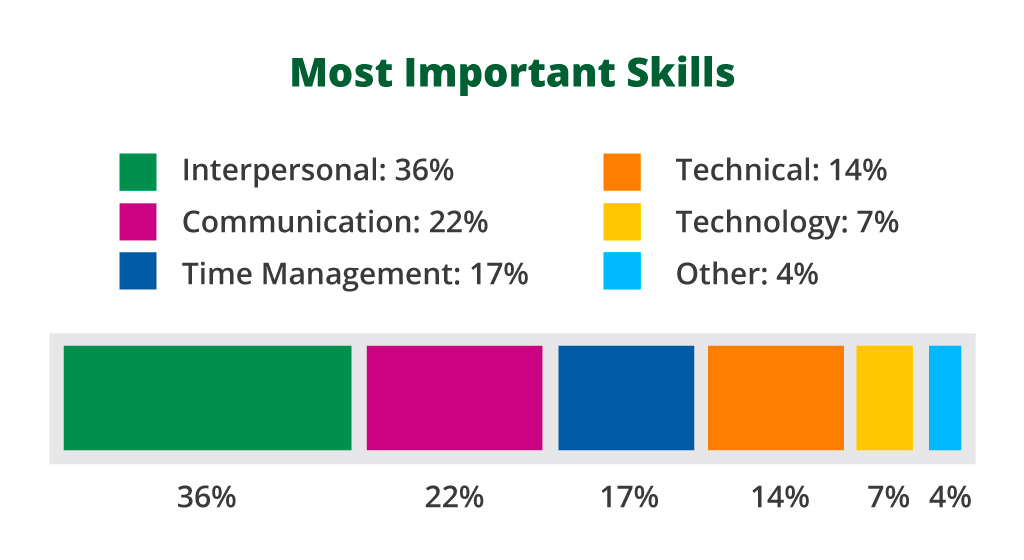 The Easiest Way to Get There

Taking the time to assess and gather information about the skills gaps in your organization is the first step in addressing it. Once the critical gaps are identified you can go about the work of upskilling and reskilling your people, while creating an ongoing plan or skills-focused training strategy for soft and hard skill development in your organization that will attract and keep talent.

Engaging assessment-based learning experiences that improve culture and cohesion like Everything DiSC, customizable solutions to improve leadership skills like The Leadership Challenge, or teamwork development like The Five Behaviors are powerful places to start equipping your people as well as your organization for success now and into the future.